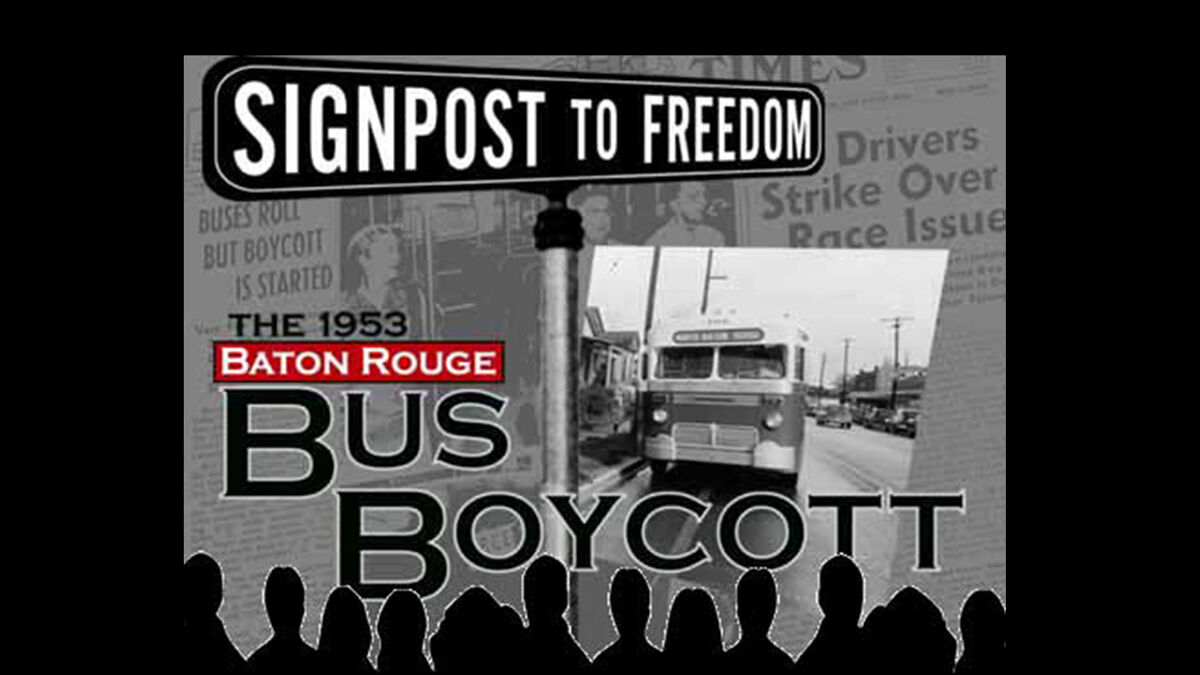 Signpost to Freedom: The 1953 Baton Rouge Bus Boycott DIGITAL DOWNLOAD
"Signpost to Freedom: The 1953 Baton Rouge Bus Boycott" is a one hour documentary that recounts the circumstances and events that led to the nation's first large-scale boycott protesting segregation and then examines its impact on the evolution of grassroots civil rights activism across the country during the early years of America's Civil Rights Movement.
In 1953, led by a handful of determined young men and women, the African American citizens of Louisiana's capital city led a quiet revolt. Nearly three years before the famous bus boycott in Montgomery paralyzed that city and captured national attention, the African American citizens of Baton Rouge organized the nation's first large-scale boycott challenging segregation. The city's black residents pulled together in solidarity to make the boycott effective, organizing an intricate carpool system. In just eight days they brought the city's bus system to its knees. This boycott would become a defining moment in the birth of America 's struggle over civil rights. In years to come, lessons about the boycott's successes and failures would provide momentum for the social revolution igniting throughout the South.

Until recently, this compelling story has been largely overlooked by historians. Yet, the boycott's influence on later events in the nation's civil rights movement is indisputable: Dr. Martin Luther King, Jr. wrote in his book Stride Toward Freedom, that a detailed "description of the Baton Rouge experience was invaluable" in the early stages of the Montgomery boycott. Rosa Parks' biographer and Signpost scholar Douglas Brinkley says Mrs. Parks and other NAACP activists throughout the South monitored the developments in the Baton Rouge boycott very closely at the time. According to internationally known civil rights historian and Signpost advisor Dr. Adam Fairclough, "the Baton Rouge protest pioneered many of the techniques that became standard practice in the civil rights movement of the late 1950s and 1960s: mass non-violent protest, the leadership of Baptist ministers and the foundation of alternative transportation systems."

In an effort to bring this remarkable, untold story to millions of Americans, Signpost features interviews with eminent civil rights scholars and the personal stories of the boycott's primary participants and witnesses. Rare archival photographs, film footage, and newspaper articles help in presenting a complete and accurate presentation of the boycott's history.

Signpost uses its team of scholars to examine the rich legacy of grass-roots African American community activism, which was vibrant and effective in Baton Rouge during the 1940's and 1950's. In the years following World War II, numerous neighborhood-based voters leagues worked with Southern University students and NAACP activists to boost voter registration. Empowered by their growing ranks, African American leaders mobilized new voters and succeeded in winning limited concessions from white city leaders when it came to employment practices, use of public facilities and initially, in negotiating more equitable service from the city's bus company. Signpost examines the power of this grassroots organization. By recording interviews with African American leaders of the time and aging boycott participants, many of whom have never been interviewed, Signpost reveals important new elements of this story. This is a remarkable story which most people have never heard.
Note: You MUST be logged in to purchase a digital download product. If you do not have a user account, you can register here.
Copies of LPB programs are available only in return for your donations (in the listed amounts) to Louisiana Public Broadcasting. (Plus $5.00 added for shipping and handling per item). Thank you for supporting LPB!