Good For What Ails You: Healing Secrets of the Cajuns, Creoles and Bayou Indians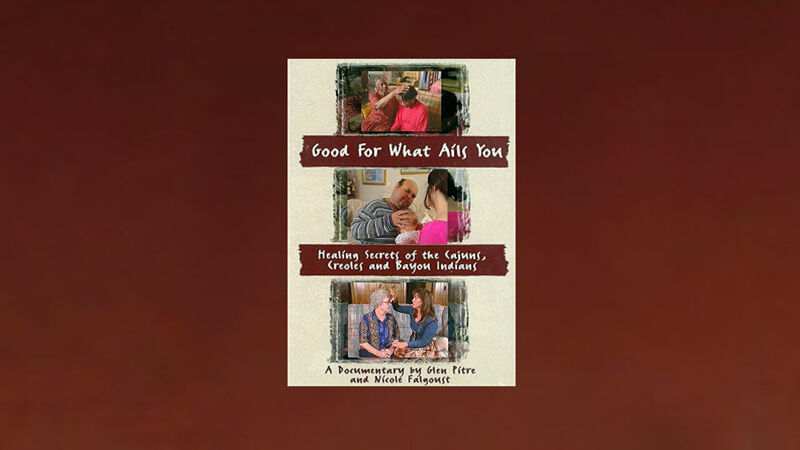 PROGRAM
At the dawn of the 21st century, there are still pockets of traditional folkways in Louisiana's bayous where alligator grease relieves asthma, a buried potato cures warts, and "smoking a baby" eases the pain of colic. This documentary by Glen Pitre and Nicole Falgoust takes viewers to a world where faith healing, herbal remedies and ritual magic are still an everyday occurrence. It follows respected traiteurs (in English, "treaters") as they gather wild teas, brew home-made cough syrup, invoke the saints at their home altars, and most of all, heal the sick.
Watch this Program
Already a Friend of LPB? - View on Passport or Search on Passport.
Not a Friend of LPB? - Join here.
PROFILES OF THE TRAITEURS
Miss Ella, an African-American Creole woman in her late 70s, gets calls daily from an underground network of the troubled looking for her prayers and counseling on grief, romantic entanglements, legal problems, elderly care, and even cooking. One visitor may be looking for a cure for arthritis, the next for witchcraft or love charms.
---
Lawrence, a Houma Indian, learned the healing arts from his tribal elders because as a child he was too overweight to go out and play. Today he totes a briefcase filled with wild herbs, rosaries, store-bought liniments, and the twine used to fashion the mystical "string of nine knots." But how does an itinerant, illiterate healer function in the 1990s? During the course of filming, Lawrence must deal with the notoriety - and heavy case load- that arises after his appearance on local television, then must visit a conventional doctor when major illness threatens him.
---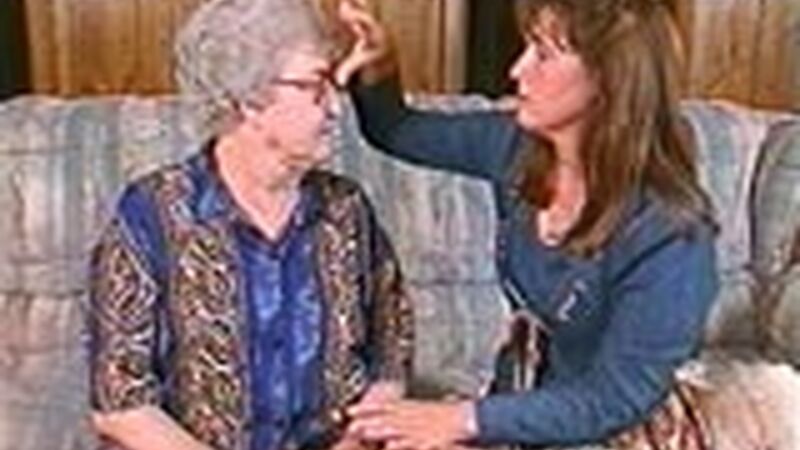 Shannon, a twenty-something Cajun woman, learned the secret healing rites from an aging treater; today she harvests wild bark to treat toothache and cactus to cure diabetes. But how does Shannon reconcile her otherwise modern lifestyle with a remedy that involves circling herpes sores with chicken blood?
---
FILMMAKERS
GLEN PITRE - WRITER/PRODUCER/DIRECTOR
Glen Pitre has written, produced, and directed internationally acclaimed movies and television documentaries. In addition, he has written a number of motion picture screenplays, two novels and three non-fiction books, developed permanent exhibits for a half-dozen museums, developed syndicated radio programming, and created an award-winning web site.
A native of Cut Off, Louisiana, Pitre worked his way through Harvard by working on shrimp boats during the summer. By age 25, American Film magazine had dubbed him the "father of the Cajun film" for his French-language docu-dramas that were breaking box office records in South Louisiana cinemas. Today Pitre's body of work about the people and cultures of Louisiana has earned him numerous film, literary, humanities, arts, historical, cultural and environmental preservation honors.
Pitre's best-known work is the motion picture Belizaire the Cajun, starring Armand Assante as an 1850s treater. It was produced in association with the Sundance Institute and was a Selection Officielle at the 1986 Cannes Film Festival, and garnered Pitre a knighthood from the French government.
NICOLE FALGOUST - RESEARCHER/PRODUCER Thibodaux native Nicole Falgoust debuted on the stage of the Thibodaux Little Theater at the age of the five. She went on to study anthropology at Vanderbilt University, where she won the prestigious Phi Beta Kappa writing award and was elected president of the Anthropology Association. Her anthropological field work involved working with the closed societies of the native cultures of Mexico and the American Southwest and her work with the homeless in America's cities.
Falgoust also co-wrote and co-produced the 1996 award-winning environmental documentary Rescuing the Treasure. Currently, she is back at Vanderbilt writing a thesis on Louisiana folk medicine before resuming her field work and studies in Guatemala and Chile.
MICHELLE BENOIT - CO-PRODUCER Michelle Benoit is a therapeutic bodyworker and writer in Lockport, Louisiana. The co-author of Country Roads of Louisiana and Great River with her husband Glen Pitre, she also co-produced the award-winning documentary Haunted Waters, Fragile Lands about the history and culture of the Barataria-Terrebonne Estuary.
Recently Benoit was a consultant and editor for a chapter on folk treaters, commissioned by Reader's Digest for their forthcoming compendium on American folk medicine.
MICHAEL DOUCET - MUSICAL DIRECTOR Michael Doucet wrote the musical score for Good For What Ails You, his sixth musical collaboration with Glen Pitre. Doucet is best known as the lead singer and fiddle player for the critically acclaimed and Grammy-nominated Cajun band BeauSoleil, and for his work with The Savoy-Doucet Band.
Generally regarded as the top Cajun band in the world, the Lafayette-based BeauSoleil has opened for the Grateful Dead and played with Mary Chapin Carpenter on her 1991 Grammy-winning hit "Down at the Twist and Shout." They also joined Carpenter for a performance of the song at the Super Bowl two years ago.
Dedicated to the memory of Tommy Comeaux
EDUCATION
UNDERWRITERS
Louisiana Division of the Arts
Louisiana Endowment for the Humanities
Cheniere Hurricane Centennial
The Great October Storm of 1893 - Old historic photographs were collected by decendents of the survivors at the Cheniere Hurricane Centennial held in 1993.
BIBLIOGRAPHY
Click to expand the full bibliography.

Anderson, Robert. 1996. Magic, Science, and Health. Fort Worth, Texas: Harcourt Brace College Publishers.

Brown, Michael F. 1997. The Channeling Zone. Cambridge, Massachusetts: Harvard University Press.

Csordas, Thomas J. and Arthur Kleinman. 1996. "The Therapeutic Process." In Medical Anthropology: Contemporary Theory and Method. eds. Carolyn F. Sargent and Thomas M. Johnson. Westport, Connecticut: Praeger Publishers.

Danforth, Loring M. 1989. Firewalking and Religious Healing. Princeton: Princeton University Press.

de Mille, Richard. 1980. The Don Juan Papers. Santa Barbara: Ross-Erikson Publishers.

Dow, James. 1986. "Universal Aspects of Symbolic Healing: A Theoretical Synthesis." American Anthropologist. 88:56-69.

Evans-Pritchard, E. E. 1976. Witchcraft, Oracles, and Magic Among the Azande. Oxford: Oxford University Press.

Good, Byron. 1994. "Medical Anthropology and the Problem of Belief." Medicine, Rationality, and Experience. Cambridge: Cambridge University Press.

Heider, Karl G. 1935. Ethnographic Film. Austin: University of Texas Press.

Joralemon, Donald. 1990. "The Selling of the Shaman and the Problem of Informant Legitimacy." Journal of Anthropological Research. 46 (2):105-118.

Kleinman, Arthur. 1991. "Concepts and a Model for the Comparison of Medical Systems as Cultural Systems." In Concepts of Health, Illness and Disease, eds. Caroline Currer and Margaret Stacey. 29-47. New York: Berg Publishers.

Lévi-Strauss, Claude. 1963. "The Effectiveness of Symbols." Structural Anthropology. Trans. by Claire Jacobson and Brooke G. Schoepf. New York: Basic Books.

Loizos, Peter. 1993. Innovation in Ethnographic Film: From Innocence to Self- Consciousness 1955-85. Chicago: The University of Chicago Press.

McGuire, Meredith B. 1994. Ritual Healing in Suburban America. New Brunswick, New Jersey: Rutgers University Press.

CREDITS
Written, produced, and directed by: Glen Pitre
Researcher/Producer Nicole Falgoust
Co-Producer Michelle Benoit

Camera Rex Q. Fortenberry
Editor Reggie Wade
Audio Ben Williams

Music by: Violin Michael Doucet, Guitars/Organ Tommy Comeaux, Elderphone/Flutes Austin Sonnier, Jr., Percussion Billy Ware, Engineer Tony Daigle
Recorded at Settlement Studios, Lafayette, LA

"Good For What Ails You" Lyrics by Charlie Duthu, music by Treater

Historian - Carl Brasseaux, Center for Louisiana Studies

Key Grip Jodie Fontenot
Additional Audio - Bryant Langlois, Chris Miranda, Steve Roppolo

Production Manager Ed Landry
Executive Producer Clay Fourrier

Thanks to everyone who graciously consented to be filmed and to:
Callias Cable, Golden Meadow, LA; Chiquita's Chevron Cut Off, LA; The Dalin Shop, Houma, LA; The Dupre wedding party; Ellender Memorial Library Archives; Mount Pleasant Baptist Church; KLFY-TV, Lafayette, LA; Terrebonne General Medical Center;

Jane Breaux, Beth Conklin, Dana David, Sprinky Durand, The Falgoust Family, Mary Frost, Maia Harris, Catherine Howard, Eddie Kurtz, Randy LaBry, Donna Laurents, Tesa Laviolette, Gladys Myles, Ken & Sue Neveaux, Maide Owens, Warren Perrin, Louian Pitre & Fly, Anthony Sagrera, John Salvaggio, MD, Patricia Scawin, Julie Sellers, Nick Spitzer. Carolyn Ware, James & Diana Schlesinger
Special Thanks to Bollinger Shipyards, Ernie Vicknair, and to all of the traiteurs of Southern Louisiana who shared their time, knowledge and precious gifts.

The producers do not endorse any of the remedies shown...
...but a prayer never hurts.

A Côte Blanche Production in association with Louisiana Public Broadcasting

© 1998 Côte Blanche Productions and Louisiana Educational Television Authority

For Dr. Tommy Comeaux - Healer, Musician, Friend
Want to see more? Get the program!