LOUISIANA HARVEST OF THE MONTH - New Digital Series Celebrates the Bounty of Louisiana's Crops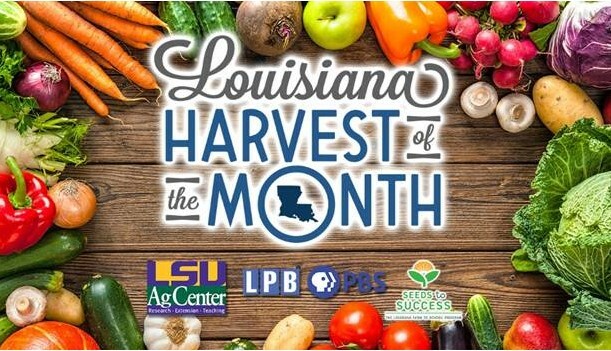 Louisiana Harvest of the Month is a new digital-first series from the LSU AgCenter and Louisiana Public Broadcasting celebrating foods grown in Louisiana and the bounty of Louisiana's farms and gardens. The video series presents fun facts, planting and growing advice, visits to farms, and ways to include the harvest of the month in everyday cooking and in school environments. The program is the perfect way to launch or grow a farm to school program, as it provides an easy framework to follow and ready-to-use materials. Participating school sites will receive a free packet of materials as well as guides, additional resources, and training.
BE ENGAGED®
Are you seeking ways to increase your parent and family engagement?
Well, help is on the way! The Louisiana Department of Education launched the BE ENGAGED® initiative which is designed to encourage parents, families and communities to BE ENGAGED. 
Although there are many strategies that are being put in place to ignite engagement across the state, one of the most innovative ways is through a technology app called PimsPoints. Parents can earn PimsPoints by participating in activities such as an open house or a parent-teacher conference. After participating in school events and completing learning tasks, parents can exchange their PimsPoints for digital rewards and coupons provided by local businesses.
Teachers are encouraged to reach out to their local/district parent and family engagement coordinator for more information about the implementation of PimsPoints in their district.  
More details about the BE ENGAGED® initiative can be found HERE. For more information, please contact Dr. Antiqua Hunter at Antiqua.Hunter@la.gov.
Help Students See Themselves in STEM
3.5 Million is the number of Stem Jobs the United States will have to fill by 2025! 
With Stem Jobs being the future of our economy, how can you inspire your students to see themselves in STEM? With these rich resources, strategies, and interviews with scientists, you can provide hands-on learning with real-world applications that focus on project management skills/teamwork, critical thinking, problem-solving, and innovation. Create authentic experiences for ALL students:
STEM Careers Project See yourself in a STEM career! Explore and Discover the present and future of STEM careers. Students will ultimately choose one career to explore more deeply and show what they have learned in a creative way.
Math at the Core: Culturally Responsive Teaching and Math: The math classroom holds huge potential for students to develop a deep understanding of social, political, and economic issues with direct relevance to their own lives, as well as important interdisciplinary skills such as media and data literacy. This collection supports culturally responsive teaching and learning of math by incorporating diverse ways of doing math, by showing diverse people doing math, and by contextualizing math within relevant societal issues that students can connect to their own lives.
SciGirls: SciGirls educational materials provide gender-equitable teaching strategies and hands-on inquiries based on the concepts modeled in SciGirls' videos. The SciGirls approach is rooted in research on how to engage girls in STEM. All SciGirls activities were created with the SciGirls Seven in mind and incorporate as many strategies as possible.
Bringing the Universe to American Classroom: Engage K–12 students with phenomena and science practices using this collection of supplementary digital media resources created by GBH in collaboration with NASA. The resources align with key NGSS Earth, space, and physical science disciplinary core ideas. To ensure that science content is accessible for all students, supports are included for students with disabilities or who are English learners; many resources have Spanish translations.
Hot Shots and Hot Jobs: Science Matters: These videos feature young professionals as role models in innovative STEM jobs. The videos are featured on the Science Matters website, with an article explaining the skills and training needed.
NOVA: Secret Life of Scientists & Engineers: An Emmy-nominated web-series from the acclaimed PBS series, NOVA. The series profiles today's leading scientists—and shows what they're like when the lab coats come off—showing viewers a human side of science that many students can relate to.
Occupation STEM: Occupation STEM is a web series designed for 6th-12th grade students to spark interest in STEM-related careers. This collection features interviews with various scientists, engineers, and other STEM-related professionals.
Sesame Street In Communities: Fall Brings New Playful Learning
It's fall here on Sesame Street, and as the leaves change and the days grow shorter, we are reminded of all the opportunities for fun and learning that new seasons can bring. As a provider for young children, you can make the most of these opportunities. As you're using the resources, think about ways you can incorporate nature and the changing seasons into young children's play. Find a little inspiration with the resources below:

Back Yard Camping: (Video) All children experience the world differently, and those differences are even greater for children with autism. As a parent or caregiver of a child with autism (or as someone who knows a person with autism), your understanding and support can help ease daily challenges…while celebrating the uniqueness of all children. Written, produced, and animated by a team of artists on the autism spectrum, features Julia and her family as they practice a comforting "draw it out" strategy on their backyard camping trip.
The Little Neighbors Club: (Storybook) All adults want children to grow up to be responsible citizens and to think and act with concern, respect, and kindness for others. That's the foundation for a happy, healthy future for our neighborhoods and communities. Read The Little Neighbors Club storybook together with children to help teach little ones about building a better world, together.
Let's Pack an Emergency Kit: (Printable) Believe it or not, hurricane season is still upon us, and talking to children about emergencies and how to prepare for them is key to keeping everyone safe. Share this printable page checklist with families in your care to get them thinking about what they might need in case of an emergency.
PBS LearningMedia Seeking ELA and Social Studies Teachers PAID Opportunity
PBS LearningMedia is currently seeking ELA and Social Studies educators in grades 6-12 to pilot test educational materials created for the Ken Burns in the Classroom collection. This is a paid opportunity.
For each lesson tested, teachers will be paid a $250 stipend. Requirements of testing include:
-Implementing resource and support materials in class
-Utilizing a rubric/form to provide feedback
-Providing sample work and reflections from two students
-Classroom implementation observation by a member of the PBS LearningMedia team
-Virtually, or In-class, if possible/following COVID safety protocols
-Additional student work samples will be requested when observation is not possible
We would love to work with your network of educators and would greatly appreciate it if you shared this initiative with them. Educators interested in participating in this opportunity can apply using the form found HERE.
LPB | PBS LearningMedia
---
Grades PreK-K: Apple Picking Digital Game | Curious George--This digital game from Curious George reinforces reading, writing, and representing numbers. Numbered apples are floating in the water on their way to the cider press. Help Curious George and Jumpy grab the right ones to fill the gaps in the apple number line.

Grades K-2: Teach with Informational Text | PBS KIDS Self-Paced Learning--Learn about the purpose of Informational Text and discover how the series Molly of Denali introduces the concept to children. This professional development experience shares why and how to effectively engage young children with informational text.
Grades 3-5: Oral Traditions--This video, adapted from material provided by the ECHO partners, features Cecilia Kunz, a Native elder from the Tlingit people of Southeast Alaska, who describes how stories are passed on among her people. Although the Tlingit language is now written, and virtually all Tlingits are literate, they continue to pass on their stories orally. Cecilia Kunz illuminates how dance, clothing, traditional objects like totem poles, and events like potlatches all become means of transmitting and preserving stories.

Grades 6-8: Science Fair--Help kids find subjects that interest them for viable and engaging Science Fair projects. These great ideas utilize materials that are not too hard to find.
Grades 9-12: Why Teach Native American History? | Wyoming's Native Americans--The Wind River Reservation contains some of the most unique features in Wyoming. Visitors to the reservation usually tour burial sights of Chief Washakie and Sacagawea. However, the significant contributions of these historical figures are sometimes overlooked. 
In the accompanying lessons plans (found in the Support Materials), contributions of Washakie and Sacajawea will be highlighted, and stress the importance of teaching and learning about the unique history, culture, and contemporary contributions of Wyoming'
Register for a PBS LearningMedia Informational Webinar on our LPB Learning@Home website!  Sign up today and learn how easy it is to search for quality lessons and fun activities that families and children enjoy while learning! If you do not have a PBS LearningMedia account, sign up now!
Discovery Education November Roundup
Here are some fresh ideas and resources to keep your teaching momentum going.
Extend Your Learning-- Grab "just-in-time" professional learning resources that are short, convenient, and relevant to teachers' day-to-day life. In our Professional Learning NOW collection, explore micro-learnings that cover topics such as remote teaching and learning, social-emotional learning, and culturally responsive teaching. Each microlearning provides a 3-5 minute burst of personalized, guided learning that seamlessly fits into a busy schedule.
Share Timely & Relevant Resources-- Did you hear the news? We launched an Activity Center for K-8 teachers. Here, you can find a calendar of ready-to-use activities to engage students with a variety of science, social studies, math, and ELA content. We'll release a new calendar each month with timely and relevant content, so be sure to subscribe to the new Activity Center.
Stay Connected  VirtCon |  Tuesday, November 9, 6:30 – 8:30 PM ET  Go hands-on with Discovery Education to build meaningful learning activities. From interactive slideshows, all new Activity Templates and real-time collaboration, there is a lot to explore! You will also participate in sessions hosted by fellow DEN STAR Educators. Learn More!

LDMA : Explore the stories of Louisiana's veterans.
In honor of Veteran's Day on November 11th, the LDMA is highlighting stories from Louisiana's military history.  Louisiana servicemen and servicewomen have played critical roles in the United States military in times of war and peace.  Through these stories, learn more about their combat experiences and their often difficult transitions back to civilian life HERE! 
November Highlights from LPB
Nature: The Elephant and the Termite Wednesday, November 3 at 7PM--Witness the dramas of Africa's great wildlife meeting place the waterhole. From mighty elephants to tiny termites, an entire community of creatures call the waterhole their home. This is the remarkable story of the relationship between Africa's largest and smallest and the unique wildlife community they support.

Secrets of the Dead: The First Circle of Stonehenge Wednesday, November 3 at 9PM--A decade-long archaeological quest reveals that the oldest stones of Stonehenge originally belonged to a much earlier sacred site -- a stone circle built on a rugged, remote hillside in west Wales.
Nova: Universe Revealed: Alien Worlds Wednesday, November 10 at 8PM--NOVA tackles the big question: are we alone in the universe? NOVA takes us on the ultimate voyage as we visit exotic worlds orbiting distant suns!
A NIGHT OF FAMILY FUN Sunday, November 21 at 6PM - Ziggy's Arts Adventure 6:30PM – A Charlie Brown Thanksgiving--Join LPB for a night of family fun that starts with the LPB educational children's show Ziggy's Arts Adventure. Join our friendly alien and his gang of friends as they explore art in all of its forms and learn a little something along the way!
Next, it's a holiday tradition with the Peanuts gang as Charlie Brown shows us that Thanksgiving traditions are in the eye of the beholder. Whether it's a turkey leg or a handful of jelly beans, it's the people around the table that count in A Charlie Brown Thanksgiving.