A natural hazard is an event in nature that produces environmental change and may negatively impact the environment.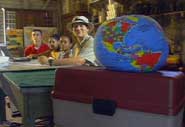 While environmental change can be the direct result of human impact, it also occurs as a result of the natural processes of our dynamic Earth.
Change is critical to maintaining a healthy environment. Devoid of human interaction, environmental change creates long-term benefits. For example, some plants do not reproduce unless their seed pods are opened during the intense heat of a fire. Floods, while life-threatening to humans and animals, are necessary to replenish nutrients in soil and build new land in delta regions. Volcanic eruptions create new habitats for plants and animals. These changes, while devastating to the environment initially, produce far reaching, positive results in the long term.