• loss of productive land to grow food, timber, fiber for clothing.
• runoff into water bodies degrading water quality for fishing and swimming.
• loss of coastal land as habitat and for recreation.
• loss of a future resource.
Soil is formed by the weathering of rocks over long periods of time. Weathering is the mechanical (physical disintegration) and chemical (decomposition) break-up of rocks. Soil is a mixture of tiny particles of inorganic minerals and rocks, decaying organic matter, water, and air.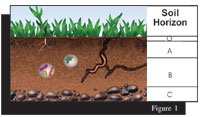 While soil is technically a renewable resource, the average rate of erosion throughout the world greatly exceeds the rate at which soil is being formed. Erosion is caused by air and water moving weathered material. After the material is removed from a location, it is deposited when the air and water lose their carrying power.