Some of the issues addressed by today's zoo:
Environmental Enrichment is an attempt to provide humane ways to keep animals in

captivity. Practices can be very complex (artificial, fleeing-prey devices for leopards) or very simple (providing dirt burrows for prairie dogs). A simple structure such as a tree stump for bears to scratch their backs on can provide a more natural environment for the animals, allowing them to exert some control over their environment. This can result in healthier, more relaxed animals that can successfully breed.
Naturalistic Upgrading is used to improve an animal's captive habitat and make it more like its natural environment. Some zoos have not used natural elements at all; their exhibits are constructed with plastic and other synthetic materials that are strictly design features intended for the benefit of the viewer. However, some zoos have made impressive strides in upgrading their animals' environments. Two excellent examples are Zoo Atlanta and the Roger Williams Park in Providence R.I. Both have proved that it is possible to enrich the animals' space with little money and lots of creativity.
Science meets Mother Nature in Captive Breeding programs. Tissue, sperm, eggs and embryos of the world's most endangered species are stored in protective cryogenics freezers. Species survival plans are developed and implemented to match captive animals for mating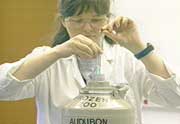 and also contribute to a healthy gene pool.